Louis Vuitton, Gucci, Prada, and Hermes luxury handbags are a statement of sophistication, class, and excellence. These luxury purses are designed to maintain their appearance and craftsmanship.
Louis Vuitton Luxury Handbags
Looking back to 1859, Louis Vuitton opened a shop outside of Paris with 20 employees, and by the year 1900 he employed over 100 people. The company expanded quickly due to its craftsmanship and focus on protecting goods when customers traveled.
In 1886 Louis Vuitton and his son designed a single lock system for their trucks with two spring buckles still used today. Did you know that Harry Houdini was unable to escape from a Louis Vuitton box and lock?
By 1925 a dome-shaped designer purse was designed for personal use, and the demand for these bags was huge. Let's fast-track into the 1990s. The company began to make significant waves in the fashion industry. In 1997, Marc Jacobs designed the first ready-to-wear line of handbags.
In the 2000s, the designer purse spoke to the younger generation and offered limited-edition bags to satisfy the customers' appetites.
Designers in the company take painstaking precision in making sure the handbags represent the company's quality. Doing so provides customers with a luxury handbag as a timeless piece that will never go out of style.
Prada the Name of Beauty
If you have ever visited Italy and had the pleasure of walking the streets and seeing the sites, you will be moved by the pure elegance the country displays.
Prada first opened in 1913 in the prestigious Galleria Vittorio Emmanuele II in Milan, Italy. Being the second-largest city in Italy, Milan is known as the economic heart of Italy. Known for its thriving fashion industry and world's famous artworks, Milan was an excellent location for Mario Prada to open the first store. The store sold leather goods like bags, trunks, and travel accessories.
Mario did not believe a woman should work outside the home; however, this quickly changed when his daughter, Luisa, took over the family business when his son did not want to. In 1970 Luisa's daughter began helping in the industry by designing accessories.
By 1977 when Luisa's daughter met Patrizio Bertelli, a young Italian Prada launched into a new direction. Patrizio had his own leather goods business, and he began marketing worldwide.
In 1989 Prada introduced a womenswear line which was a global success. Luxurious fabrics and colors and a sophisticated look were appealing to the world of fashion. Today, Prada designer handbags are sought after by many, and stores command top dollar for these bags. Prada signifies excellence and a refined style.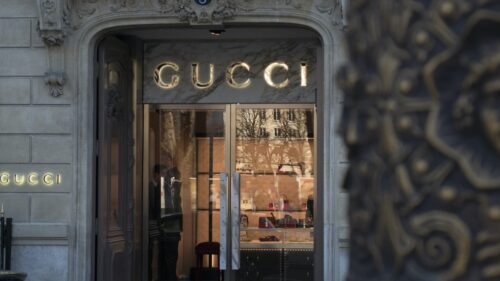 Why Gucci?
Did you know that 2021 marked the one-hundredth anniversary of Gucci? Passing through years of turmoil laden with family feuds, a murder, almost claiming bankruptcy, and a take-over attempt Guccio Guccio signifies craftsmanship at its best.
In 1897 Guccio worked as a bellboy and enjoyed horseback riding. As he moved the trunks of travelers at the motel he worked at, he was impressed by the craftsmanship in the trunks carried by aristocrats. He knew he wanted to create his own company to craft these items.
In 1921 he opened his first store and faced the League of Nations embargo against Italy. He sought a solution and imported leather and woven hemp, and he also used pigskin and bamboo. By 1953 the Gucci brand opened in the United States.
In 1961 Jacqueline Kennedy was seen sporting a Gucci bag, and it was subsequently named the Jackie. By the 1970s, Gucci was known for its shoes, bags, luggage, and accessories. Through ups and downs, the Gucci brand is known nationwide and worldwide. Men and women want to purchase Gucci handbags and purses as an example of artistry and sophistication in the fashion world.
Does Owning a Luxury Handbag Have to Break the Bank?
Designer handbags range in cost from $50.00 to upwards of $45,000. What $45,000? Loro Piana currently has Sesia designer handbags made from luxury alligator skin with a price tag of $43,650.00. It is a timeless statement of elegance. The beautiful Chanel Pearl Lego Brick Clutch is priced at $15, 000 and a Gucci Zumi Crocodile Medium Top Handle designer bag sells for $32,564. Oh my!
The 2022 Louis Vuitton Runway Collection
The 2022 Louis Vuitton Runway Collection is being showcased with prices ranging from $4,050.00 for the Louis Vuitton Black and White Coussin to $2,180.00 for the Louis Vuitton Beltbag Coussin.
So how can a customer get a designer purse at a bargain?
People sell and secure collateral loans on gently used designer handbags by working with local pawnshops. Barely used luxury purses in perfect shape like Chanel, Prada, and Louis Vuitton and those with monogram canvas can bring an excellent return when sold to a pawn shop. This exchange makes it possible for people to buy a luxury handbag at a bargain.
Major Department Store versus Pawnshop
Unlike significant department stores where the sales tag is the price you will pay for major brands, pawn shops can purchase a designer bag and turn around and put the bag on the sales floor for a discount. Pawnshops are in the business of authentic handbags and wallets, pre owned Louis Vuitton clutches, and designer purses with monogram canvas and can quickly be the answer to the question, "who buys and sells designer handbags near me? "
An Ever-Changing Industry
The History of Pawnshops
Dating back to roots in Ancient China over 3,000 years ago, pawnbrokers would work with the local peasants and offer them short-term credit. Pawn brokering was viewed as a respected profession. During the Middle Ages, the House of Lombard in England owned and operated a chain of pawnshops.
Pawnshops were established in the United States during the 19th century. The industry multiplied because people working in industrial manufacturing that paid low wages found it necessary to figure out how to make ends meet between paydays.
Pawnshops became an intricate part of some communities as a financial institution to help people secure cash to meet basic needs, including rent.
During the Great Depression, communities found that pawnshops were the only place to secure cash for their valuable items, and pawnshops became a significant source of consumer credit.
Pawnshops Today
Pawnshops have continued to find their place in communities. Most U.S. communities have a local pawn shop. Pawnshops are the general public's go-to solution to get loans quickly. Banks, credit unions, and other financial institutions often require credit checks and aren't willing to write short-term small loans. Pawnshops do! They can buy and sell things like used Louis Vuitton, designer handbags, fine jewelry, name-brand sunglasses, backpacks, gold, and silver at bargain prices.
Who Uses Pawnshops?
In today's world, many different types of customers frequent pawn shops. Pawnshops are often dual shops, providing loans and buying services and having extensive retail inventories of name-brand items. Because of this, pawnshops serve collectors, people searching for bargain prices, and those wanting to sell unused items for quick cash. Pre owned items made by top designers are highly admired and customers can buy these at pawn shops who have instore retail shops by going to the store or through shops that have an on line service.
Designer handbags are worth money and have a cash value, and pawnshops will appraise and buy and loan on these items. Pawnbrokers are experts in appraising and valuing designer handbags and can distinguish between authentic and fake ones.
Sterling Knight Jewelry and Pawn
At Stirling Knight Jewelry and Pawn, we have served thousands of satisfied customers from all over Illinois and are well known among the most reliable & trusted places for acquiring a short-term cash loan.
We are the brightest & fastest growing pawnshop chain in Will and Du Page County with five great stores in the suburbs of Chicago at – Villa Park, IL, Joliet, IL, Bolingbrook Hinsdale, IL. 
The owner of Sterling & Knight Jewelry & Pawn, Mr. J. Ford Sunderland is a veteran of the jewelry industry and visionary par excellence. With over 35 years of experience, he is a certified gemologist & estate buyer. He has also been featured in several articles in prestigious dailies & magazines, including Chicago Tribune, Chicago Sun Times, and Crains Chicago Business.
Our pawn shops provide a vibrant & clean environment along with state-of-the-art surveillance & security systems, so our customers can rest assured that their items are well-protected while in our safe-keeping.
We are certified experts in gold & silver jewelry, diamonds & coins, gold & silver bullion, high-end watches & designer handbags, power tools & various electronic items, musical instruments, and others. We have an outstanding team of pawnbrokers who are highly knowledgeable and specially trained to quickly and accurately appraise your things to ensure maximum cash for your valuables. We specialize in cash loans from $10 on up to $50,000!
We endeavor to provide unparalleled customer service, extremely competitive pricing, exceptional professionalism at every transaction, and a super friendly & safe environment. We treat all our customers with great respect and give back to the communities we serve with all our hearts.
As a member of several organizations like the National Pawnbrokers Association, Illinois Pawnbrokers Association, Jewelers Vigilance Committee, Villa Park Chamber of Commerce, Hinsdale Chamber of Commerce, Bolingbrook Chamber of Commerce, Joliet Chamber of Commerce, we are fully committed & propelled to operate & deliver much above the pawn industry standards. Our sole aim is to delight every customer that walks through our door & make them feel immensely respected & cared for.
So Why Bring Us Your Valuable Items?
Simply said, because we care.
We are the fastest growing pawnshop chain in Will and Du Pont County, with five stunning stores in the suburbs of Chicago. We have over 35 years of experience, and we specialize in cash loans on jewelry, diamonds, gold, silver, platinum along with designer jewelry from brands such as Tiffany, Cartier, and David Yurman; high-end watches & purses, electronics, musical instruments, power tools and much more!
We buy, sell, and loan on 100% authentic Louis Vuitton, Prada, Gucci, boy bags, classic flaps, wallets and are continually curating our in-store and online inventory to meet our community needs. We specialize in many high-end items and want to work with you.